Middle School Library
Robert Behlke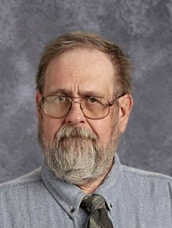 I am your school librarian, having an earned Masters in Library and Information Science from San Jose State University in San Jose California. I have worked as a middle school librarian for almost 12 years, and for over 6 years as the library director of the Ella Mac library at the old Si Tanka University in Huron.
My past teaching experiences include being an adjunct professor at Si Tanka University, and at Southeast Tech in Sioux Falls. I was also the Instructional Program Manager at the School of Library and Information Science at the University of Wisconsin - Milwaukee. Before that I was the training petty officer for the United States Coast Guard (USCG) Station New London Connecticut. and was an adjunct instructor at the USCG Reserve Training Center in Yorktown Virginia. While in the Coast Guard, I performed small boat search and rescue and taught small boat operations.
I have a B.A. in Religious Studies and was 6 credits shy on my B.A. degree in Classical Studies, both from Cleveland State University in Cleveland Ohio. I am a member of both the American Library Association (ALA) and the South Dakota Library Association (SDLA), and I serve on the SDLA Young Adult Reading Program (YARP) committee.
Extended Learning Information: 
Huron Middle School Library Website
Open eBooks: Please remind students (grade 8) that have access to the Open eBook electronic library that they can download the free Open eBook app & use their code/PIN to read books on any Apple or Android device, including phones.  Their account is good on up to 5 devices. I've recently sent out a new list to grade 8 LA teachers but if they need a new account, please let me know.
HPL ebooks: The Huron Public Library, for those students that have a library card, will continue to offer ebooks that patrons may check out on their home electronic devices. To check out books from the HPL they will need to log in using their HPL library card barcode number & their password is their last name in all caps.  HPL will also be offering curbside service so that patrons can call with their requests & the staff will let them know what time to pick up their selections curbside. HPL will be closing this evening & stay closed the rest of the week except electronic & curbside service.
Need help with a research paper?  South Dakota State Library Access